5 Branding Tips to Set You Apart from Your Competition
By Nik
|
February 21st, 2018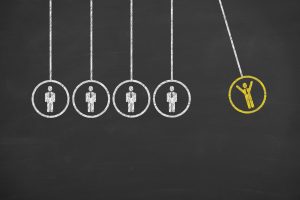 A website allows your business to reach more customers than ever before. Unfortunately, you'll also be competing with others from all around the world. In order to compete in your industry, you'll need to develop an internet marketing strategy.  One of the most important parts of any successful internet marketing strategy is the creation and development of a unique brand.
Here are five branding tips which will help you stand out from your competitors:
1. Understand Your Competition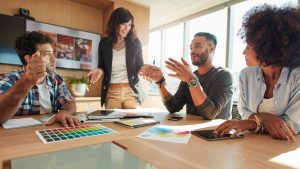 The sheer massive scope of the internet means that you'll always have some competition – even if you operate in a very niche area. So the first step to great branding for your business is to identify and understand your competition.
Don't just assume you know who your competition is. Instead, look at who search engines consider your competition to be. Search using the same terms as your potential customers. What information is presented on the search page? Would you click on your own brand – or is your competition making better use of headlines and page descriptions?
When searching in this way, use Google's Incognito mode. This reduces the impact of your personal search history and region. Incognito results will generally present a clearer picture of what your potential customers are seeing when they search.
When developing your brand, you'll have to work around what's already established brands. Imagine the confusion which would result if a new fast-food chain used purple arches as their logo? Your brand needs to be instantly identifiable as yours and yours alone. This means the colors, logos and all-around style should be clearly different than every other brand in your industry.
2. Clarify Your Mission Statement
You chose this specific type of business for a reason. Maybe you have a ton of experience in the field? Maybe at one point in your life you suffered from a problem which you developed or used your product to solve?
Your business is about more than making money. A clear, well-defined purpose helps your brand connect with potential customers. Your stated purpose helps communicate what's unique and important about the products or services you provide. Define your company with both a slogan and a mission statement. A slogan is short, creative and fun. Think Nike's "Just Do It." A mission statement goes into a bit more detail about the specific products or services offered.
Your logo is another important branding tool. Successful logos don't just look cool. They also help reflect the mission statement of the brand. For instance, FedEx has a famous "hidden" arrow inside their logo.
3. Develop SEO and Content Marketing Strategies
Internet marketing is an on-going process. You'll need to create and publish new content on a regular basis. Most business owners will have the most success by working alongside a professional SEO agency. But even with SEO pros doing the heavy lifting, your industry experience is a valuable resource.
The best type of content fills two roles. First, the topic must address an issue your potential customers care about. Buzzsumo and similar tools help you identify trending topics related to your industry.
But interesting content isn't enough. You also want to provide content on subjects your competition is overlooking. What's topics are your potential customers looking for but unable to find? People will gravitate towards a brand which provides useful, unique information.
4. Develop a Consistent Social Media Strategy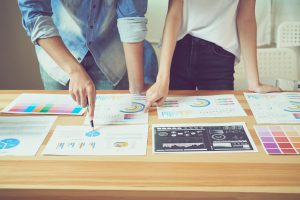 You'll want to promote your content across your social media platforms. Don't just limit yourself to Facebook. Social media platforms let you connect with smaller, niche audiences. For instance, Pinterest is a great platform if your customer base includes women between the ages of 30 and 64.
You never know how a potential customer will find you. Imagine reading one description of a brand on their Facebook page but a completely different representation on their Twitter profile. That will likely cause a lot of confusion about what the brand is all about.
Keep your profile consistent across all social media profiles. You'll want to use the same name, picture, images and general look each time. A uniform look across the internet helps create an image of reliability and professionalism for your brand.
Also, pay close attention to your NAP. This is your name, address and phone number. Write this information in the same exact way in every profile, down to the use of capital letters and abbreviations. This might seem nit-picky but Google uses this info within Google Maps. High placement on Google Maps helps your customers find you.
5. Work with a Professional Team
Most business owners will get the best results when they work alongside internet marketing professionals. However, this doesn't mean you can simply hire a team and then sit back. As an expert in your industry, your input is a valuable resource.
Together, you and your internet marketing team will develop a complete branding strategy. While creating a logo, slogan and mission statement is usually a one-time action, developing a brand is an on-going process. The right team of marketing pros will help ensure your entire online presence always aligns with your brand's image and values.
The Importance of a Great Brand
Your brand helps your customers understand what your business is all about. A customer's relationship with a brand has a direct impact on how much they'll spend. Fortunately, developing a brand doesn't necessarily require a ton of time and expertise.
An effective brand has a clear mission statement and purpose. Brand awareness is spread through a variety of SEO efforts including social media campaigns which target specific demographics. Also, most businesses will get the best results by working with marketing professionals. Using all of these tips will help your brand stand out from the competition.
|
No Comments
You can follow any responses to this entry through the
RSS 2.0
feed.